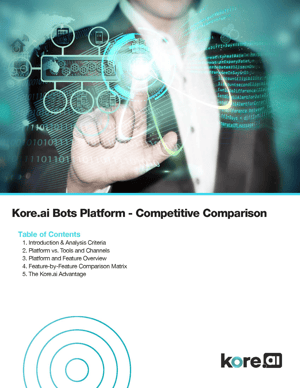 The Kore.ai Bots Platform
Competitive Comparison
Kore.ai's Bots Platform is the only enterprise-grade, end-to-end, cloud or on-premise platform for designing, testing, and hosting AI and NLP-powered chatbots for use in the most popular consumer and business communication channels. This document provides a side-by-side, chatbot development platforms comparison that shows how our technology stacks up to the best chatbot platform in the market such as Microsoft's Bot Framework, IBM Watson, Api.ai, and IPsoft Amelia.
Unlike other chatbot frameworks and declared platforms, the Kore.ai Bots Platform is a complete end-to-end solution built from the ground up, with the features enterprises require to scale conversational chatbots.
The Kore.ai enterprise chatbot platform contains every component you need to build, train, deploy and manage AI-rich chatbots for users to engage in all communication channels. Robust yet flexible, it can be deployed on-premise or in the cloud, and is designed to stand up to the most complex business and IT requirements, without requiring changes to existing systems, policies or procedures.
Chatbot framework comparison
Kore.ai offers the only true and complete platform-as-a-service for building, deploying, and using both customer and employee focused bots and several AI-powered Smart Bots that were built to help enterprises quickly capitalize on the cost savings, efficiency and service experience potential of conversational computing. Most competitors do not provide enterprise and platform-level features such as messaging middleware, easy integration with enterprise systems, bot connectors, administration, compliance and more.
Download this competitive comparison to compare and understand the following:
Analysis criteria
Platform vs. Tools & Channels
Platform and Feature Overview
Features Comparison Matrix
The Kore.ai Advantages