Kore.ai Customer Experience (CX) Benchmark Report 2023
Unlock Exceptional Customer Experiences with AI
Exclusive insights from 1,000 consumers spanning Gen Z to Baby Boomers!
Are you tired of customers repeating their issues during service? 79% of customers find this frustrating.
It's time to rethink your customer-first approach:
Prioritize Customer Satisfaction

Enhance Loyalty and Build Stronger Relationships

Leverage the Power of AI for Success
Unlock the secrets to enhancing customer satisfaction and productivity with this report.
Consumers Prefer IVAs Over Basic Chatbots

Consumers are Interested In Automated Assistant Use Cases Across Industries

Consumers Prefer Companies to Utilize Automation for Complex Interactions

The Right Automation Implementation Leads to Higher Customer Satisfaction
Gain instant access to our Kore.ai CX Benchmark Report and keep it handy for future reference.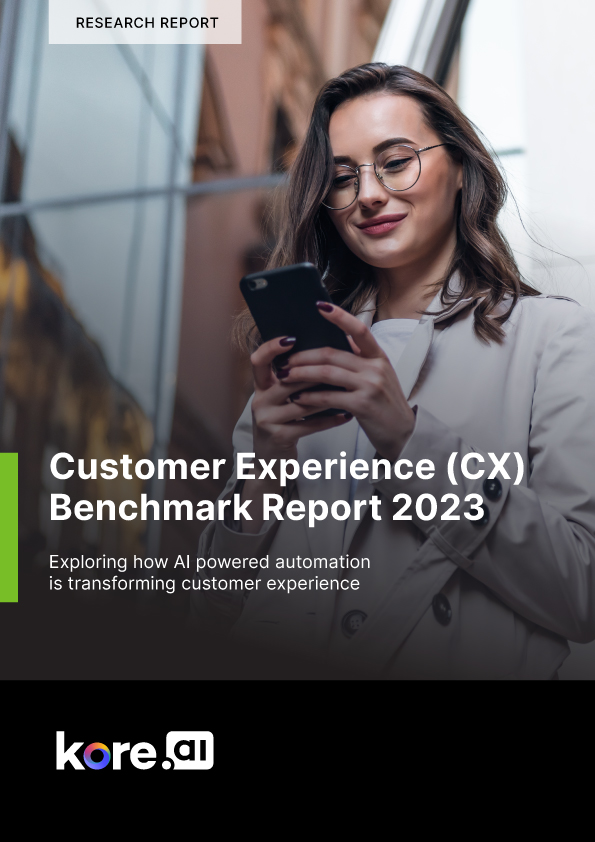 The Key to Elevating Your Customer's Experience
We're committed to supporting you on this journey towards improved customer satisfaction. Reach out to us at info@kore.com, and we will be delighted to assist you. Together, let's embark on a transformational path that sets you apart from the competition!
Get your hands on the report!
Simply fill out the form below to gain instant access and start revolutionizing your customer experience.