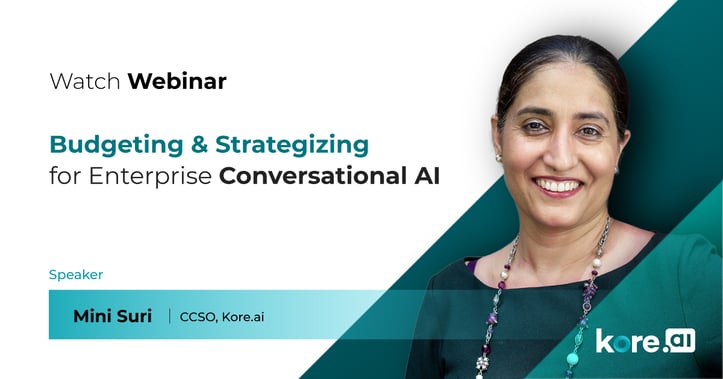 Budgeting and Strategizing for Enterprise Conversational AI
At the core of any C-Suite executive's vision for a futuristic enterprise, lies technology. How to make people, processes and businesses interact with each other most optimally to create an outstanding enterprise? That's a question agonizing them. Conversational AI technologies such as chatbots/virtual assistants certainly figure in their scheme of things, but success is cumbent on a careful and well-calibrated implementation strategy.
If you are one of those envisioning of building a Conversational Enterprise, here's a rapid-fire for you:
What's the strategic relevance of chatbots for your business? Who will it benefit? Which is the low hanging fruit that delivers the maximum impact?

What component of the budget should you allocate for Conversational AI? Which enterprise function should you target first?

What solution and technology framework to deploy? Would you build it in-house, buy a turnkey solution, or outsource the development of a customized framework?
We are bringing in Mini Suri, CCSO at Kore.ai, to answer these questions and help you decide better. An outstanding technologist with a skin-in-the-game for strategizing and successfully implementing Conversational AI initiatives at large global enterprises such as Citi Group and Uber, Mini also assists businesses to transform themselves into a Conversational Enterprise. Here's your opportunity to hear from the horse's mouth.
Speaker Profiles:
Mini Suri

, CCSO, Kore.ai

Mini Suri, Chief Customer Success Officer (CCSO) at Kore works closely with global enterprises in defining strategy and implementation roadmap for Conversational AI. She comes with over 22 years of diverse experience. Prior to joining at Kore.ai, she was leading Uber's Center of Excellence (CoE) for Intelligent Automation that comprises robotic process automation (RPA) and chatbot practices. Before that, Mini was Senior Vice President at Citi Group for their Services Strategy that focuses on enterprise automation using advanced technologies such as chatbots, ML and AI.
Watch the Latest Webinar: Revolutionize Employee Experience with Conversational AI