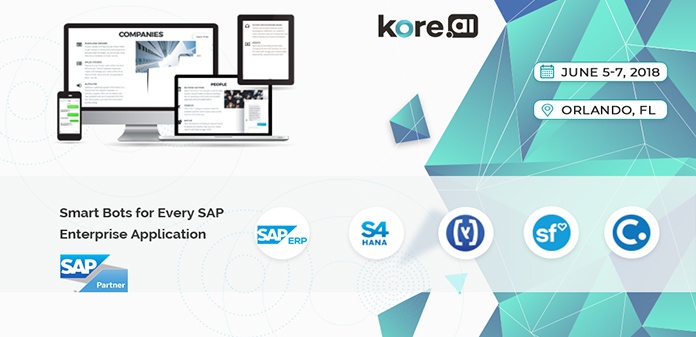 Gartner predicts that Conversational AI will be adopted by 70% of Enterprise Organizations by 2021.
Bots are revolutionizing the way we interact with companies. For consumers, there are already more than 30,000 branded chatbots and 6,000 voice-activated skills available: but now, getting tasks done in your SAP systems is just as easy: as simple and fast as speaking a command or sending a text.
There are so many "out-of-the-box" use cases available that can be configured to your requirements (no coding required!).
Take a look at our SAP bots at bots.kore.ai:
SAP Hybris for elevating the customer experience, unbinding sales representative from tedious administrative jobs.
SAP SuccessFactors to support your employees and bring them into the fold of the company (and serve them, not enslave them with screen after screen).
SAP ERP is the best! But bots make it even better - proactive, intelligent, at the right time to bring the power of SAP to your employees.
Why choose Kore.ai?
Our platform is different, bringing unique features like:
Support SAP (but also integrate with "the others" like ServiceNow,

Salesforce.com

, workday, Pega, etc. that you might have too

On-premise or cloud or hybrid - you choose

Off-the-shelf SAP bots - configure, don't code

Omni-channel - supporting 25 channels, so the user can choose how they want to engage

SOC-2 certified platform with AES encryption - giving you enterprise-grade security

Natural conversations supporting pause and resume, change intent, multi-intent, sentiment, agent escalation, verbose dialog, entity extraction - all things that people do when they talk
So if you are attending SAP Sapphire NOW and want to connect with us, please fill your details on the form. and we will get in touch with you.
Watch this video to learn more about our capabilities for the SAP ecosystem applications.