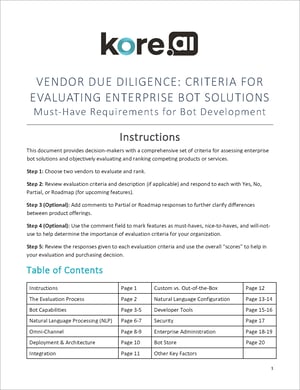 Vendor Due Diligence: Criteria for Evaluating Enterprise Virtual Assistant Solutions
Comprehensive Criteria for Evaluating Enterprise Virtual Assistant Solutions
Virtual Assistant platforms are designed to make it easy for enterprises and developers to build, host, and manage bots that can bring instant value to employees and customers. Top-ranking platforms provide a complete, customizable, secure, and cost-effective framework that ensures a consistent and scalable process for building bots without the need for expensive hosting, time-consuming coding, or complex custom software.
Evaluate chatbot platform capabilities
Once you've reviewed your evaluation criteria, it's time to select a shortlist of product candidates and proceed with your typical procurement process. You can use this document to review and rank the leading bots tools on the market.
In addition to this list of evaluation criteria for bot development solutions, you may want to consider these additional factors that will help in your technology search:
How easy and intuitive is it to learn?

How long does it take to deploy?

What are the Virtual Assistant features?

What kind of support will you receive during and after implementation?

How easy is it to collaborate on bot projects?

How long does it take to build bots using the solution?

What is the pricing and pricing structure in relation to your must-have features?
Download our tool to help you understand and get answers to critical factors to consider when evaluating the potential solutions for your organization.