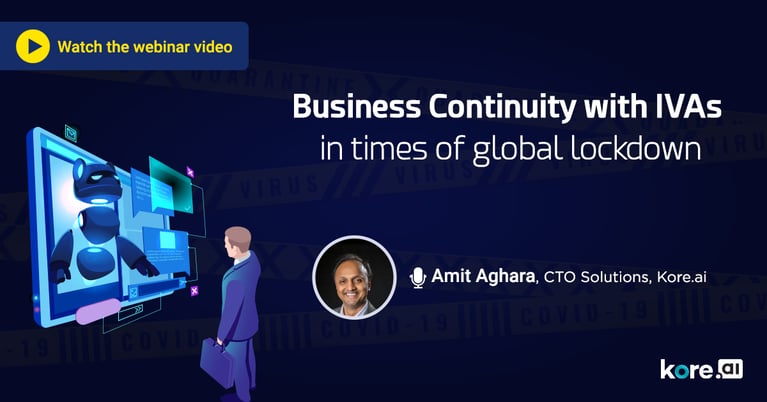 Business Continuity with IVAs in Times of Global Lockdown
COVID-19 and the need for social distancing have forced enterprises around the globe to shift to a remote work environment.In reality, the cultural shock that comes from such a big shift has yet to sink in for most companies and employees. On one side, employees have a lot of questions and problems that need to be resolved for them to remain productive. And, on the other side, support staff are overwhelmed by the sheer volume of such queries and issues. In addition, due to limited support staff at the call centers, businesses are struggling in serving their customers, resulting in customer frustration and dissatisfaction. A lot of businesses have big issues dealing with business continuity.

Employers have to figure out
How to provide operational support to remote workers
How to resolve numerous queries from employees
Employees are looking for
Prompt attention to their HR, IT, or payroll-related queries
Easy way to find answers, and remain informed during the crisis
Businesses are worried about
How to effectively answer customer queries
How to effectively manage with the limited staff
This is a one-of-its-kind situation and calls for a different line of thinking to deal with it. Can intelligent virtual assistants be one of the ways to tackle the situation?

Join our upcoming webinar where Amit Aghara, CTO Solutions at Kore.ai discusses how intelligent virtual assistants can help navigate this pandemic from a business continuity perspective.
In this webinar, you will learn -
Business pain areas vs potential gain with IVAs
Key employee-focused and customer-focused use case demonstrations
Possible roadmap to quickly evaluate, adopt and scale an IVA solution
Answers to audience queries about IVAs
Speaker Profiles:
Amit Aghara, CTO, Solutions

Amit leads Kore.ai's product strategy and is responsible for developing domain-specific, demand-driven conversational AI solutions leveraging the company's proprietary Virtual Assistant platform technology. He has more than 15 years of experience across product management, product development, and solution engineering at companies including IBM and Kony.
Watch the Latest Webinar: Humanizing banking customer experience with Intelligent Virtual Assistant