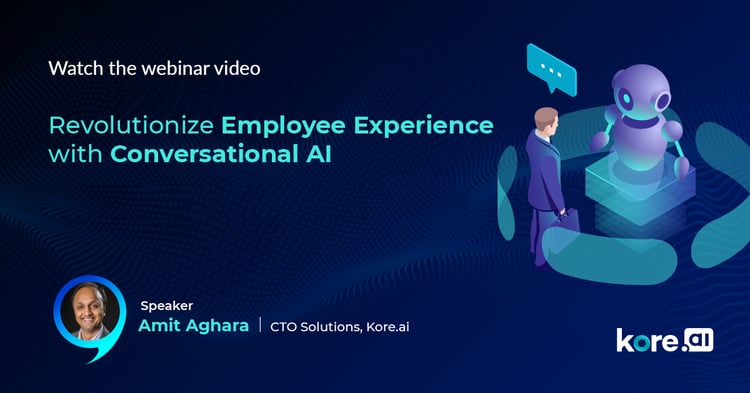 Revolutionize Employee Experience with Conversational AI
"To win the marketplace, you must first win in the workplace"

Human resources(HR) is one of the most critical departments within an organization. A well-managed HR department can enhance the employee experience and be an enabler of the organization's growth.
Most organizations spend big dollars to create happy workplaces by providing various perks and experiential zones. But when it comes to HR processes,it is still done the old school way. Most tasks like employee onboarding, answering basic questions about work, leave policies, or even basic inquiries require filling in long forms and browsing through confusing portals. This leads to delayed responses that affects employee experience and happiness at work.
In an era of instant gratification, the millennial workforce prefers the self-help service model instead of spending time over phone, emails or filling up lengthy confusing forms. They expect a simple messenger like a platform to quickly interact and resolve their queries. That's where Conversational AI brings a significant breakthrough.
In a recent survey of 350 HR leaders, 92% of them agreed that the future of providing an enhanced level of employee service has to include chatbots. Jennifer Stroud, HR Evangelist at ServiceNow, believes AI and machine learning is imperative to drive higher productivity in the workplace as well as modernize and consumerize employee experiences.

So are you ready to redefine the Employee Experience at your organization? Conversational AI can be the game changer for your organization.
In this webinar, we take you through the journey of how Conversational AI-driven automation in various areas of HRMS can streamline training, managing, and working of enterprises making employees feel like home at work.
Key Takeaways:
Why Conversational AI is essential for HRMS?
Top Usecases to start your Conversational AI journey
Leverage Kore.ai Bots Platform to get started on initiatives for transforming HRMS
Speaker Profiles:
Amit Aghara, CTO, Solutions

Amit is responsible for leveraging Kore.ai's bot platform technology to define strategy and deliver Kore.ai's Smart Bot product offerings to the market. He has over 15 years of experience across product management, product development, and solution engineering at companies including IBM and Kony.
Watch the Latest Webinar: How to Leverage Conversational AI for ITSM?