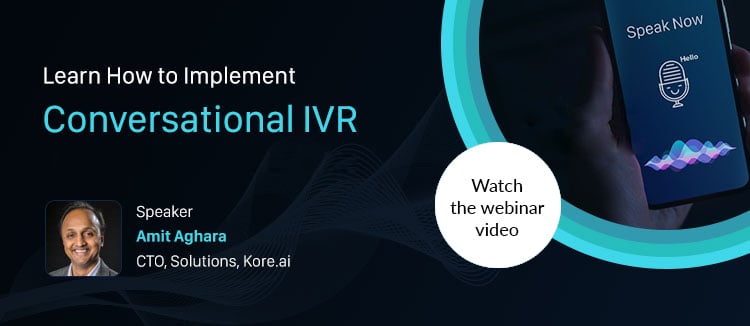 Learn How to Implement Conversational IVR
73% of consumers believe that interacting with a conversational automated system would significantly improve their experience. As an enterprise, are you looking to create intelligent IVRs which listen, evaluate, and execute tasks that involves deep decision making?
Explore how your contact centers can leverage conversational AI and chatbots to improve overall operations and streamline customer service while enhancing CX. Companies that implemented conversational IVR have considerably reduced costs, provided better customer experiences, and have achieved maximum return on investment.
Key takeaways:
Understand what makes up the DNA of Conversational IVR
Best Practices to enhance customer experience with Conversational IVR
Use cases to start your Conversational IVR journey for AI enabled contact centers
How Kore.ai Platform helps enterprises augment AI to build best-in-class Conversational IVR
Host Profiles:
Amit Aghara, CTO, Solutions

Amit is responsible for leveraging Kore.ai's bot platform technology to define strategy and deliver Kore.ai's Smart Bot product offerings to the market. He has over 15 years of experience across product management, product development, and solution engineering at companies including IBM and Kony.
Praneet Gill, CSO

Praneet is focused on the development and execution of the next phase of Kore.ai's corporate strategy. With over 15 years of experience, Praneet has deep expertise in finance, strategy and corporate development at companies including Sycamore Ventures, Genpact and Raymond James.
Watch Previous Webinar in this Series: The Journey from Traditional IVR to Conversational IVR